Visiting monsters need a play to stay (and to haunt), so build them a hotel!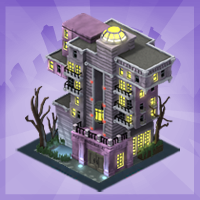 Benefits
High payout.
Prizes for checking into friends' hotels.
Summary FAQ
Q: How can I receive the Haunted Hotel?
A: You will receive it as part of the Halloween quest line; you have to be level 10+ to receive Halloween quests.
Q: What are the stats for this hotel?
A: The hotel takes 400 goods and pays out 2500 coins.
Q: Where can I learn more about the Hotels feature?
A: Please see our official Guide to Hotel Resorts.
Step by Step Guide
Click on middle quest in Act 2.

From inside the quest menu, click on the "Place" button.

Place then start building your Haunted Hotel (it will take 6 clicks to build it).


Clicking on your unfinished Haunted Hotel will bring up the list of materials you will need to finish it. You can get these by sending requests to your friends and posting requests to your feed, as well as by purchasing them with City Cash.
Note: You can post one feed request for materials that can be posted to feed every 24 hours.

Once you have gathered all the parts, just click on "Finish Building" to finish building your Haunted Hotel. Supply your Hotel with goods to start using it


Click on your Hotel after supplying it to invite your friends, and grant VIP requests.

When your hotel is full you will see the "money bag" icon on top of it; click on your hotel to collect your earning!

Every city needs a Haunted Hotel; build yours today!